One of the biggest trends this season is brass. I know, you never thought it would make a comeback, right? Well it has. With a vengeance. I think for a long time brass got a bad rap, but I really love the warmth it brings to a space now. Now, I'm not talking the 1990s brass everything. But in modest doses, brass, especially aged brass, makes a great statement!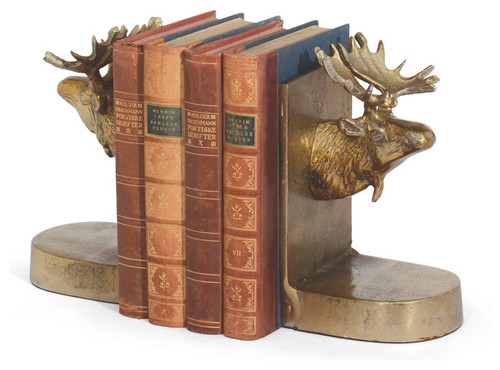 Find bookends for your home
Incorporating brass is quite easy, and anything with animals or geometric shapes are really dominant right now. One of my favorite ways to incorporate brass is in bookshelf decor. Accents like bookends added weight and texture. And my vintage shop, Mac's Attic, just so happens to have a pair of great brass bookends!
If you're going for a midcentury design, brass is an obvious and easy choice. Accent book shelves or floating wall shelves with brass anchors are easy ways to add color in a space. I'm always a sucker for shelves with a midcentury nod like this one from Land of Nod.
What I love about brass is that it's classic. Done in moderation, it can add so much classic charm to a kitchen. I love this kitchen from CC+Mike and how they incorporated brass in the lighting and hardware. A classic way to break up the white in the kitchen. Isn't this space just dreamy?
If you're looking to incorporate brass into your decorating, here are a few helpful hints:
Less is more.
Sometimes we have the tendency to regurgitate everything we see on HGTV in extreme fashion (Shiplap, anyone?). And while there are some great design elements that we all love, like brass and shiplap, don't drown a space in it. Brass countertop with brass cabinets with brass backsplash with brass accents? Tooooooo much. Use brass for your accents and not your dominant anchor pieces.
Make it easy to change.
Use temporary and transitional pieces to bring in brass. The problem with all brass cabinets? Brass is a trend that will fade away at some point, and you'll be stuck with brass cabinets. Want to incorporate brass in your cabinets? Switch out the cabinet hardware! That's an easy, affordable, and temporary fix. Try adding decor accents like vases & terrariums in brass. The bring in the warmth of the metal without a long term commitment!
Buy it used if you can.
My favorite way to copycat any trend is to scour thrift stores, flea markets, and auctions. This isn't brass's first rodeo, so there are tons of brass items floating around that need a new life. A lot of times, these items are relatively much cheaper than if you were to walk into Pottery Barn or Restoration Hardware and buy a modern replica. Brass lamps, especially, seem to be plentiful and affordable in thrift stores!
Pick one metal.
Brass isn't the only metal to make a splash. Copper and bronze are also popular and equally as stylish; however, don't mix your metals! Pick one and stick with it. Use it sparingly and smartly. When you start mixing the metals, you start drowning the room in various trends and the space loses the modern feel.
How do you feel about brass? Did you use it when it was popular the last go around?