It's been two weeks since I closed on Flip 5, and, honestly, I've been so busy with work and moving that it exhausted all of my energy. I used the PODS moving system, so, essentially, I move twice….but at a leisurely pace. Now that I have everything out of the POD (albeit just thrown into the house!), it's time to get busy planning.
My initial plan was for the studio loft out back to be the first project since it's going to be the largest, but, as luck would have it, a more pressing project popped during the move.
The house came with a very basic fridge which I'll eventually move out back to the studio, and I had planned to put my newer side by side fridge in its place. But guess what? The joys of owning an older home that is not equipped or designed for today's needs: the above cabinets are not tall enough to fit my fridge.
So currently, my fridge is sitting in the middle of the dining room.
So the first project quickly changed from the studio loft to the kitchen makeover…obviously starting with the cabinets. That's part of the joys of living in a house you're remodeling- being able to monitor and adjust.
As with all my flips, I try to keep what I can. I hate to go in and gut a place. This kitchen, however, will need a face lift. I love all of its midcentury charm, and I hope to keep most of that. Obviously the first issue to address is trimming of the cabinet above the fridge, but while I'm at it- I hope to remove all of the existing cabinet doors. While they may look okay, they are not in good shape and have several layers of paint on them. My plan, if I can find a good cabinet person I like/trust (basically shooting for the moon there) is to keep the existing cabinet bases and replace all of the cabinet doors with new ones to freshen up the space. I really like the look of shaker cabinets, and I think a shaker style door would help modernize the space but allow me to keep some midcentury charm.
Speaking of keeping the original charm, the original cabinet pulls are amazing! And they're all there! Unfortunately, some of them have rusted slightly and some have been completely painted over. Even with their lack of perfection, I will definitely keep them. They are a chrome finish, and what I'm thinking is about having them painted brass. I need to pursue what kind of paint will last on the metal, so we shall see.
Another piece of original charm that will definitely be staying is the amazing Vent-A-Hood. It's iconic midcentury and works! So without a doubt, it'll be staying. But freshen up the cabinet doors and replace the cabinet hinges that have been painted over.
Another piece of original charm that will be staying is the amazing vintage GE stove. This stove is over half a century over and still works! It's extra wide so replacing it would be costly, and I definitely don't want to lose the charm it brings to the space!
I have no plans to change the foot print of the kitchen like I did with Flip 3. I do plan to bring in new textures and finishes and enhance what is already there. This galley style kitchen is functional with an enormous amount of storage. Updating finishes will dramatically change the appearance of this kitchen.
I've long been a proponent of old houses. The cliche that they don't make them like they used to is so true when it comes to homes. In today's throw 'em up fast and flee method of spec houses usually lacks in the quality and character department. In true old house fashion, this kitchen is full of quality and character! Like I mentioned earlier, the cabinet bases are in great shape with lots of cool little quirks. Built-in dividers, extra deep drawers, and varying size cabinets makes this is very useful kitchen which is exactly why I want to keep the cabinets! I don't want to lose any of the functionality and quality!
While the stove and vent hood bring a lot of charm to the space, the other side of the galley kitchen is certainly not lacking in vintage character either! That farmhouse sink makes me swoon every time. The only major changes that will be happening with the sink is the addition of a garbage disposal. One of the benefits of living in a house I'm flipping is to get familiar with its inadequacies and annoyances….and I've quickly learned how annoying it is to not have a garbage disposal! I may keep the vintage inspired faucet; although, it currently is leaking. The sprayer does not work at all, so that will be updated as well.
I plan on eventually replacing the dishwasher, but the one currently works, so I'll get as much time out of that one as I can!
I've really been torn about how I want the kitchen to look…I've gone back and forth a million times. But what I keep coming back to is that blue tile. That original blue tile. I feel like the bones of this kitchen are blue….the kitchen has to be blue. So what I have settled on is to essentially reverse the colors in the kitchen. I plan to go bold and paint the cabinets blue (exact shade to be determined) with a white(ish) stone countertop. I'm still waffling on the backsplash, but I know I have a lot of work ahead of me removing the existing blue tile backsplash and countertop.
About that tile…I've had people reach out to me to let me know how they definitely want me to keep that tile. I hear you! I do! I WOULD keep it if it brought value to the space, but in its current condition, it does not bring value. Much of the tile is broken, chipped, cracked and the grout is in terribly decaying condition. While it's original, and I love it, it won't be staying.
Even though it'll be a lot of work, I'm excited for the finished product. This remodel will not be a weekend warrior task. I will be hiring out a lot of the work– I'll bust up the countertop, but I'll hire out a company to add the new countertop and hire out the work for the cabinets. Of course, we can't forget the major process that I'll be undertaking to remove the washer/dryer from the kitchen. It's going to be an extensive project, with a million smaller projects, and it will probably take weeks, if not months.
In keeping with the original era of the home, I'll obviously rely heavily on midcentury design. Since the kitchen was originally blue, I want to keep it that way. And since two-tone cabinets are all the rage right now, I also want to incorporate that. I was thinking of navy and white, but I don't feel like that's very MCM. The more I peruse online, I LOVE the wood grain/navy combo. Classic design with a modern twist. This particular kitchen is so simple and classic. LOVE it.
One of the things I love so much about the MCM design, besides the fact that I'm an old soul, is that it pairs so nicely with boho decor to dramatically change it from an old-school look to a more contemporary look. I love the incorporation of classic elements in this kitchen like those pendants and the boho wicker additions as well.
For the flooring, I am struggling. Do I run wood floors in the kitchen like I did at Flip 3? I really want to try something new, but, so far, I haven't found the right tile that I like. So the jury is still out on the flooring situation.
For the counters, I'm wanting to incorporate some movement and color. I'm loving all things related to Gold Carrarra marble…except price. I'm just now starting the research process to see if there's a more budget friendly alternative.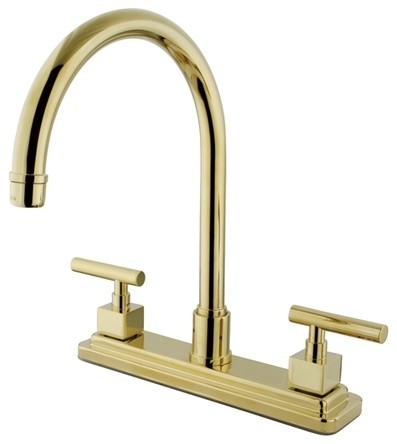 As for the faucet, while the original is a vintage-inspired one, it's a chrome finish. I'm looking for something with a brass finish and clean, MCM lines. This particular one is affordable and I love those handles!
Another area I'm struggling with is the backsplash design. I've looked at backsplash ideas until I'm blue in the face! I haven't found one yet that really jumps out to me! I love the idea of incorporating a geometric design, but so far the finishes and colors aren't exactly what I'm envisioning. So, again, the jury is still out.
Unlike my other flips, I'm not in a huge rush. I am in a rush to get the fridge in the kitchen, but this house is in such great livable condition as-is that I can take my time to get it right- which is a nice relief!